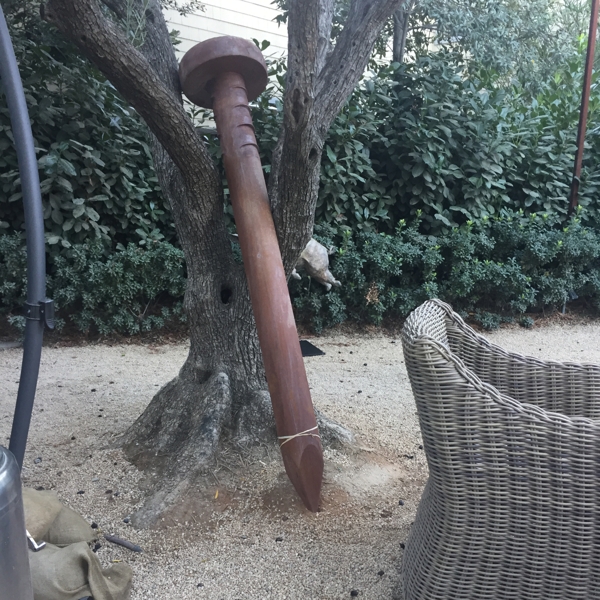 ---
David Tanych
David Tanych has been building objects since his father gave him a saw, hammer, nails and a block of wood at the age of 10.

A veteran home and furniture builder, David turned his interest in design and fabrication from the functional and practical, to the imaginative and artistic. Interested in welding and the properties of metal, David attended two summer sessions in blacksmithing at the Penland School of Crafts in North Carolina, where he began to connect to a medium much different than wood.

Intrigued and inspired by the strength and flexibility of steel, Tanych started using it to construct functional objects such as tables, picture frames and garden pergolas. As his skill progressed, Tanych began building huge steel outdoor sculptures. Likened to the work of veteran sculptor Claes Oldenburg, David's most recent pieces are big and bold, representing everyday objects such as a skeleton key and matching keyhole, and a set of three jacks and a ball. The results are fun and playful, instantly bringing the viewer back to a time when these items were common place. When complete, the sculptures are acid etched, allowing them to rust naturally, adding a textural dimension to their unique charm. Tanych's work alters the environment in which they are placed, in a way that could not be otherwise realized.

Tanych's works have been featured in publications including Architectural Digest, Dwell Magazine, Forbes Life, the Time Square kiosk, and can be viewed in numerous public and private collections including Leisureland, Palm Springs Sculpture Garden, Vermont Craft Council, Statewide, Vermont Arts Council Sculpture Garden, Montpelier, VT, Woodstock, NY Sculpturefest, Southern Vermont Art Center, Sculpture Garden and Museum, Manchester, VT.
Artwork Inquiry
Fill out the form below to request information about this artwork.