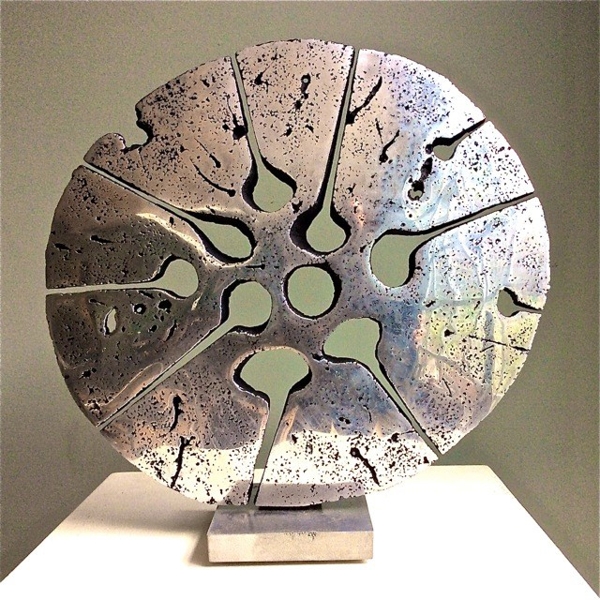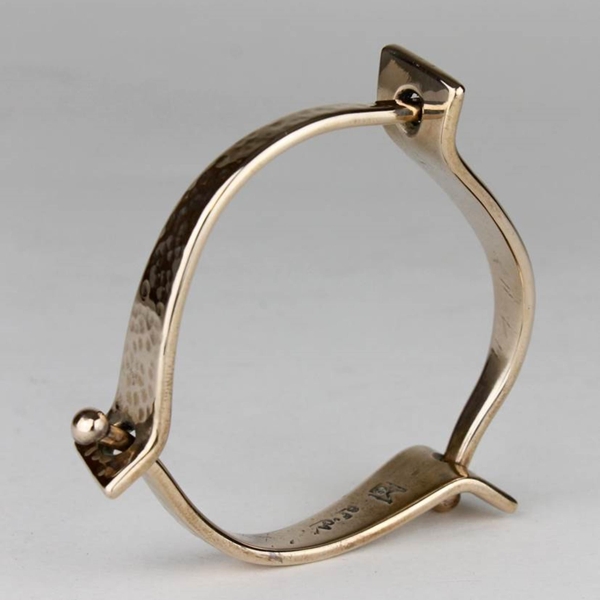 ---
Matt Gil
California born and educated sculptor Matt Gil graduated from San Jose State University, and his work has been widely exhibited throughout California since 1977. His sophisticated, subtle metal works are highly technical, refined and his use of color and negative space are bold surprises. Matt Gil says of his process:

"The more I visualize the mood or the feeling of a particular piece, as well as the process of constructing a new piece, the easier it is to build. Sometimes it feels like the pieces build themselves. My sculpture-building process is like planning a trip, first I'm going here then I'm going there. If I get a bit lost I look at the drawing/map and I get back on track. Building sculptures has now become more and more entertaining for me with each and every piece, and I enjoy it when one piece generates many spin-offs. The time and place I grew up is reflected in my work. Each piece has called to me and jumped off the page of the sketchbook as if it was real and wanted to be in the world. All my sculptor heroes call out to me and say build this one, or build that one, or this piece needs more work and thought before you can make it. Or maybe draw this one again and see that it has soul. Build it and give it a soul so that it will survive and live beyond me."

Gil has public sculptures permanently at The Palace Hotel. in New York NY, Saks Fifth Avenue in New York NY, Peninsula Hotel in New York in NY, Renown in Reno NV, London Club in Las Vegas NV, Yahoo! Corporate Headquarters in Sunnyvale CA, Menlo Equities in Sunnyvale CA, Cupertino Electrical Corporation in Cupertino CA, Monterey Museum of Art in Monterey CA, San Jose Museum of Art in San Jose CA, San Francisco Museum of Modern Art in San Francisco CA, Roche Bio Science in Palo Alto CA, Oracle Corporation in Belmont CA, Double Tree in Santa Monica in CA, The City of Napa CA, McDonald's Corporation in IL, North Central Michigan College in Petoskey MI, Nagoya Hotel in Nagoya Japan and Sydney International Airport in Sydney Australia.
Artwork Inquiry
Fill out the form below to request information about this artwork.